Before Christmas, I got an early Christmas gift of a Sears gift card. I love Sears and have shopped there often, but I had never shopped online at
Sears.com
. So I decided to give it a try. I was very impressed with their online selection and how easy it was to navigate. I was quickly able to find what I was looking for which was a
Dream Lite
.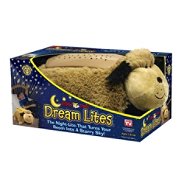 Tobin had really wanted one of these, but I didn't know that until after I had already finished Christmas shopping. So I decided to use my gift card to purchase one for him as a special Christmas surprise from Santa. I was concerned though that it wouldn't arrive in time since Christmas was only a few days away. That's when I learned about Sears's free store pickup! I was really impressed with this because if it is already a product they have in stock in their store (which it will tell you online before you even purchase it) then you can pick it up within just a few hours. They send you an email as soon as you place your order and then once your order is ready for pickup, they send you another email with instructions on where to go and what you need to bring. It was so easy to go pick up the product and I could not believe how quickly it took from ordering to actually picking up the Dream Lite. I was very impressed.
Tobin was thrilled on Christmas morning to discover his Dream Lite and I was actually very impressed with the Dream Lite as well. It changes colors and has different settings where you can pick one of the colors or pick where it changes colors every few seconds. There is a timer as well so that you can save the batteries and it will shut off by itself after about 15 minutes.
Tobin is scared of the dark and this is has been the perfect solution. It's a night light he can actually snuggle with and if he wakes up during the night, he just presses the button and turns his Dream Lite back on.
I found out that Noah loves the Dream Lite too. He was screaming one night and I could not console him. Finally I put him in Tobin's room while the Dream Lite was on and Noah immediately stopped crying. Then he started cooing and pointing. After a few days of this, we ended up ordering another one on Sears.com and headed over that same day to pick up one for Noah.
I will definitely be shopping at
Sears
and Sears.com again soon and I highly recommend you check them out as well.
**I received a gift card free of charge. No other compensation was received. My thoughts are 100% my own and others may have different opinions. A BIG thanks to Sears for the opportunity.**